How to open the lid of TOWNEW T1
Auto-sensing Mode

Open-lid Mode


Do not force to open or close the lid with your hand
See how both lid modes work here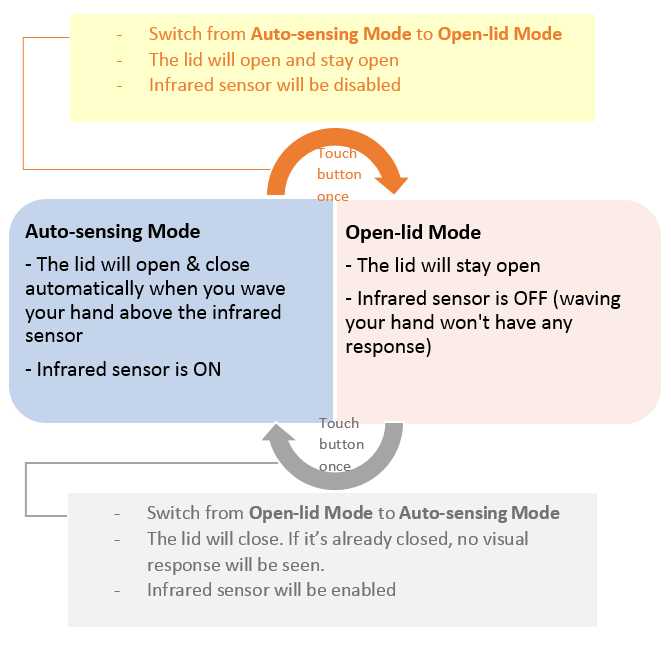 Related Articles

When I swipe my hand above TOWNEW T1 the lid isn't opened

First, make sure that you're on the Auto-sensing Mode. If you're in Open-lid mode, the infrared sensor is OFF, so waving your hand won't open the lid. To switch between lid modes, simply touch the button once. See how both lid modes work below. If ...

How to open the lid of TOWNEW T3

Auto-sensing Mode An infrared sensor is installed on the top of TOWNEW T3, it will sense an object within 35 cm above it. To open the lid, you just need to swipe your hand above TOWNEW T3. When there is no object detected, the lid will close ...

TOWNEW Dimension

TOWNEW T1 Dimension Size of the T1 & T Air Lite Opening When the lid is opened, the height of the TOWNEW is about 27 inches. TOWNEW T Air Lite Dimension TOWNEW T3 Dimension Size of the T3 Opening

Cannot open the lid with the sensor

First, try to clean the infra-red sensor located on top of T3, tap the button once, then wave your hand above the sensor to check if your T3 is in Open-lid mode which causes the infra-red sensor to be OFF. Tapping the button once will reactivate the ...

How to clean TOWNEW T Air Lite

TOWNEW T Air Lite is water-resistant with an IPX3 rating, so it can only handle water splashes. Therefore, to clean it please use a lightly dampened cloth with or without a cleaning product that's safe for ABS(Acrylonitrile Butadiene Styrene) ...